Ship Maintenance Cost: How can owners reduce it?
The cost associated to ship maintenance and repair operations are around a 10% but in old ships it can increase up to a 20-30% of the total operating expenses (OPEX). These costs are linked to vessels age, however, very often, they are also related to unscheduled repairs, lack of spares or unavailability of qualified technicians. All these issues can be mitigated preparing and following a maintenance plan not only when the ship starts to operate but also during design stages. Maintenance tasks in vessel under operation can only be successful if the ship, the master and the crew are prepared and coordinated.
The maintenance management plan shall be prepared taking into account the particularity of vessels nature, which can be in anywhere.
To better understand vessel management it is important to have clear several points:
Whose stakeholders are on vessel maintenance?
Shipping company, in charge of transport service
Shipowner (sometimes it's the same), the owner of the vessel
Ship operators responsible for the operation of the vessel (owned or hired)
Fleet technical manager in charge of vessels technical issues
Flag state and administrations
Classification Societies
Crew, in charge of directly operate each element on the vessel
Which are the periodical inspections during vessel lifecycle?
Class Surveys and Certificates. Normally are quite similar to flag requirements and can be performed simultaneously. The surveys can be periodical (Annual Survey, Intermediate Survey, Class Renewal Survey. Bottom Survey, Boiler Survey or Tailshaft Survey), non-periodical (Damage and Repair Survey, Voyage Repairs, Conversion Surveys, Extraordinary Surveys) or special (change of class, condition assessment)
Administration surveys. Statutory Surveys and Certificates are commonly related to Class- Nowadays, Flag State is in charge of survey for compliance with IMO conventions, codes, resolutions and additional national requirements.
Preventive Maintenance. In charge of the shipowner and shall be perform with the recommended periodicity by the manufacturer of the equipment or mechanical element.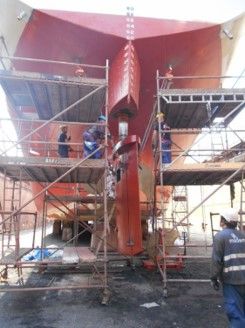 Cost associated to maintenance:
These cost can include inspections and repairs, as well as supplies or effects to be carried on board. Renewal works due to obsolescence or are also relevant
Maintenance costs depending on the charter situation will depend on the owner or charterer. The outsourcing of maintenance control is always a possibility if you have the role of shipowner or charterer by assignment, changing a fixed cost for a variable one, so that with a fleet inspector or technical director and few more resources especially for something that no shipping company should outsource is the financial and budgetary control.
Several tasks can therefore be outsourced:
Procurement and management of purchases of spare parts and services, analysis.
Drafting of contracts and supplier specifications.
Management of all certificates, representing or not before third parties, Administration and Classification Society. Regulatory compliance
Technical consultancy for new constructions, equipment, regulations etc
Superintendence task in dry docking, workshops and other suppliers.
Management of incidents and claims
Implementation of management system, ISM, etc
Management maintenance software
Supervision of maintenance work and normal operation of the crew
Advice on crew selection processes
Vessel follow up technical reports
The maintenance work of a ship is not an end in itself, it is at the service of the mission of the ship and its exploitation therefore does not form part of the core business of a shipping company, shipowner or charterer. A good management of the maintenance represent an important cost saving, switching from fixed to variable costs, it can be a very pronounced aspect in small or state-owned shipping companies.
A good maintenance planning includes not only the preventive maintenance as daily works but also during dry docking. The most important matter for dry docking is the preparation and definition of the work specification. The most clear is the scope of work and the manufactures to perform it , the most cost saving will be the docking period.
There are several issues that shall be accounted prior to any ship dry docking:
Scope of work
Vessel docking plan
Shipyard minimum qualifications (dock size, manufactures, cranes…)
Schedule and detailed task plan
Materials and human resources
Ship painting
Maintenance and repairs of structure and piping
Equipment maintenance
Manufactures, contractor and technical services
Launching
Completion of works
Contract: performance and obligations of contractor terms
Extra work and budged deviation rates
Compliance and reception terms
Payment schedule
Warranty period
The definition of all these items prior to shipyard tendering will achieve a homogeneous bidding process. It is also necessary to have clear the criteria of selection of shipyards, regarding quality of service, material means and economic offer.
Regarding the maintenance plan in the vessel, lean maintenance techniques can also be applied. It is not only important a good classic preventive maintenance plan but also the use of tools focused on reducing resources or unnecessary maintenance tasks. The applied techniques could be:
VSM Value Stram Mapping
5S
Andon (manufacturing)
Standardized work
Reduction of the 7 wastes:

Overproduction, preventive and predictive maintenance tasks more frequent than optimal
Waiting for tools, documentation, spare parts, qualified personnel…
Inventory, obsolete material, wrong spare parts
Transport, going around
Motion, searching catalogues, unordered parts…
Overprocessing, unnecessary steps, authorization redundancy, inappropriate software
Defects
A cost effective maintenance shall not only be planned but also managed, project direction techniques are recommended to accomplish a good dry dock. Shipowners shall have a technical representative following up the works with the aim of making the decisions as quick as possible and in a proper manner.
A good management of the ship will lead to a cost effective life cycle. Furthermore, in the era of the data analysis and information it is clear that intelligence maintenance will undoubtedly be the future in new buildings where the maintenance plan is accounted since the very begging of design stage. However, for vessels currently under operation the most realistic way of improving maintenance cost is applying management techniques to vessel life cycle, and supporting this management with a good technical team able to predict and look for reliable and cost effective solutions.